EN / IT
Fupete is an artist and illustrator, artistic alter-ego of a volcanic creative couple who lives and works in the small village of Crespina in the Tuscan hills near Pisa, Italy.
In the last year he designed an exclusive collection of dishes for Cirio Alta Cucina, he opened solo exhibitions in Turin, Milan and Barcelona, he exhibited at Museo de Arte Moderno MAM in Mexico City and at MIS Museu da Imagem do Som in Sao Paulo Brazil, he drew live for the concerts of Twin Tones at CCE Centro Cultural de España in Mexico City and Museo del Ferrocarril Mexicano del Sur in Oaxaca.
He worked as an Associated Art Director for the legendary Spanish magazine ROJO, which in 2008 published his monograph "Punkie Totalista", and he created images for brands like Ralph Lauren / Polo Jeans, J&B and Smart, for probono projects as the books "Atlante Nucleare" and "Libro por la Paz en Darfur" and as the exhibition "Il PCI nella storia d'Italia".
He regularly gives classes in drawing and creative thinking for children and adults.
Partner at Nasonero Studio and Drawing(a)live Festival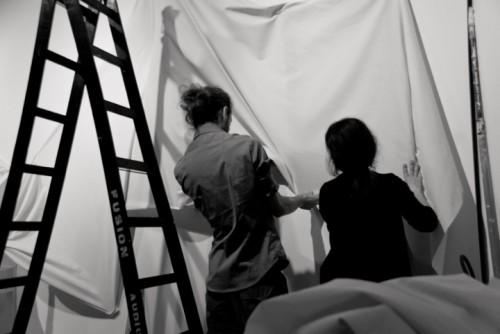 "I was born in the middle of the fabulous 70s, seven days after the last U.S. troops fleeing from Saigon, six months and Pier Paolo Pasolini was murdered. Fupete is an invention, visual poetry in the interstices, in the cracks. To unravel the tangle I draw green suns and Etruscan soup of my land. And so Joe Strummer is dead. Naked men with hoods do somersaults in the clouds. Doodles, colors, blood and black kittens. Headless dogs while the city-world burns. Black night light my drawings."
Fupete
Born in 1975, Livorno, Italy. Lives and works in Crespina/Pisa, Italy

Solo Exhibitions
2013 "Vagabondage", NOPX and Spaziobianco / Wild Flowers, Torino
2013 "Dos Triángulos", Mitte, Barcelona
2012 "Matad caballo amarillo", Vértigo, Mexico City
2012 "Brucia", ROJO, Milano
2009 "Jolly Roger", Since, Paris
2008 "Head Empty", ROJO, Milano
2008 "ZULU33", GingerZone, Scandicci
2008 "Tierra y Azul", Kong, Mexico City
2008 "Punkie Totalista", ROJO, Barcelona
2007 "'move", Temporary Love, Roma
2006 "Alla rovescia!", Studio Fupete, Roma
2004 "irobò", 47thFloor and Sc02, Roma
2004 "Aò! Arte Okkupa", 47thFloor, Roma

Books
Fupete. "Punkie Totalista". Barcelona: ROJO, 2008
Fupete and Jacklamotta. "Animal Collective". Roma: Drago, 2008

Performances
2012
"Strati Graphie", live digital drawings on a Siqueiros's painting, Drawing(a)live at MAM Museo de Arte Moderno, Mexico City
Live digital drawings on a S. Guiso's painting, Drawing(a)live at La Curtiduría, Oaxaca
Live digital drawings for Twin Tones's concerts, Drawing(a)live at Centro Cultural de España en México, Mexico City and Museo del Ferrocarril, Oaxaca
"Oscure Luci Colorate", audio visual concert, Abbazia di San Michele Arcangelo, Montescaglioso
"Foco Theory RMX", audio visual concert, Lucania Film Festival, Pisticci
"Segnando Sogni", live digital drawings, Collinarea Festival, Lari
"BAU", live painting, Lu.C.C.A. Lucca Center of Contemporary Art, Lucca
"Foco Theory", audio visual concert, Teatro di Lari and GLUE Alternative Contept Space, Firenze
2011 "Strati Graphie – Fupete disegna Viani", live digital drawings on a Lorenzo Viani's painting, GAMC Galleria d'Arte Moderna e Contemporanea, Viareggio
2011 "Foco Theory", audio visual concert, Drawing(a)live at Laboratorio21, Viareggio and Teatro di Lari
2009 "Attraversamenti Multipli", live painting, ESC Atelier and Stazione METRO Anagnina, Roma
2008 "Out", live painting, Museo Nacional Centro de Arte Reina Sofía, Madrid
2007 "squared", live painting, Colophon, Casino Luxembourg Forum d'Art Contemporain
2004 "Aò! Arte Okkupa", social art performance, director, artist, 47thFloor, Roma
2004 "Artstorm #3.0″, live arts by ROJO, Fundación Palo Alto, Barcelona
2004 "Artstorm #2.0″, live arts by ROJO, Bread&Butter, Berlin
2003 "Artstorm #1.0″, live arts by ROJO, Polimoda School, Firenze

Selected Group Exhibitions
2013
"Between the lines", Laboratorio21, Viareggio
2012
"NOVA Contemporary Culture Festival", MIS Museum of Image and Sound, Sao Paulo
"Firenze & Fashion Art", RCS for Pitti Uomo 81, Piazza della Repubblica, Firenze
2011
"Tzompantli Gráfico", Museo Nacional de Culturas Populares, Mexico City
"500 art cars", ®NOVA Cultura Contemporanea, Rio de Janeiro
"Avanti popolo – 34 designer interpretano il PCI", various venues, Genova, Livorno, Bologna, …
"Avanti popolo – 34 designer interpretano il PCI", Casa dell'Architettura, Roma
2010
"Artstars", Phillips de Pury, London
"PAC180 Parco d'Arte Contemporanea", Centro Basaglia, Livorno
"Spaghetti Grafica 2 — Contemporary Italian Graphic Design", Triennale di Milano, Milano
"Mirabilia", ROJO, Milano
"Xmas Collective", Since, Paris
2009
"Urban Superstar", MADRE – Museo d'Arte Contemporanea Donna Regina, Napoli
"ocho", ROJO, Barcelona & Milano
"out 3", giant billboards sponsored by J&B, Barcelona
2008
"Scala Mercalli overground", Auditorium Parco della Musica, Roma
"Scala Mercalli underground", Auditorium Parco della Musica, Roma
"+conciencia +futuro", Centro Cultural de España en México, Mexico City
2007
"The Skulls of Rome", Undercool, Roma
"inna", Newcity Art Home Gallery, New York
"International Poster Art II", Esc atelier occupato, Roma
2006
"out", giant billboards sponsored by J&B, Barcelona
"driveme", Invaliden1, Berlin
"driveme", KBB, Barcelona
"Another Thing", Enzimi, Bocca di Dama, Roma
"Mezzi Espressivi", Maffia, Reggio Emilia
2005
"golden", Urbis Artium, San Francisco
"gold", Stay Gold, New York
"WOP – cultura e segno underground nell'arte emergente a Roma", Temple University, Roma
"pezzo", Hoepli, Milano
2004
"yasha", Iguapop, Barcelona
"Digital Sneakers", Oikos, Milano
"Stay in T-Une #2″, Viale Tibaldi 1, Milano
"LPM", Linux Club, Roma
"Urban Act #2″, Studio14, Roma
2003
".PUN", COX 18, Milano
"Muto", Sesto Senso, Bologna
2013 "Dibujo vivo" and "Dibujo Ergo Sum", Mitte, Barcelona
2013 "Dibujo Ergo Sum" and "Animal Collective", Nasonero, Crespina
2012 "Dibujo vivo. El Tagtool", Drawing(a)live, Centro Escuela de Diseño and Vértigo, Mexico City and Centro de Diseño de Oaxaca
2012 "Krisis", Guarda Lontano 8, Accademia di Belle Arti di Urbino
2011 "Drawing as a freedom tool", Drawing(a)live, Scuola Media Lenci, Viareggio
2011 "TYPO3D — linguaggio, installazioni, diy e cc", IED Factory, Roma
2009 "Abecedario", Centro per l'Arte Contemporanea Luigi Pecci, Prato
2007 "Labyrinth", Freeshout!?, Ex-Macelli Cantiere Culturale, Prato
2007 "Mask", Colophon, Casino Luxembourg Forum d'Art Contemporain

Art Fairs and Auctions
2010 Phillips de Pury, London
2009 "STROKE.01″, Urban Art Fair, München
2009 Bolsa de Arte, Rio de Janeiro

Awards
2005 Netdiver – BOTY – Best of the Year
2003 Adbusters – Mini-doc award – 3rd prize
2001 OFFF – Barcelona – cat. Documentary – 1st prize

Selected Commercial Clients
Cirio, RCS Style/Corriere della Sera, Ralph Lauren/Polo Jeans, J&B, Smart, Adidas, Nike, Pepe Jeans

Bibliography
2012
Fupete. "Elogio para mi museo de la noche", Indie Rocks! November 2012, Mexico
Quijas, Fabiola P. "Artistas multimedia dan una lectura contemporánea a obras del MAM", La Jornada 2 Sept. 2012, Mexico
Pacheco, Jesús. "In diálogo con el arte", cover feature, El Angel/Reforma 26 August 2012, Mexico
Cendron, Marco and Alessandro Cavallini. "A4GOD". Milano: POMO
Lucchi, Cristiano and Gianni Sinni. "L'imbroglio Energetico – Atlanti Civili". Modena: Nuovi Mondi
BAU issue NOVE, assembled magazine, limited edition, Viareggio
Pasquale, Arianna. "Fupete", cover feature and central poster, Next Exit July-August 2012, Roma
"Un muro a colori", STYLE-Corriere della sera March 2012, Milano
Ramani, Donato. "FUPETE", L'UOMO Vogue April 2012, Milano
2011
"Sushi 13″. Berlin: Art Directors Club für Deutschland (ADC)
Magno, Bruno and Stefano Rovai. "Progetti Confronti Incontri. 34 designer interpretano il PCI". Roma: Istituto Gramsci
Reyes, Claudia and Rodrigo González. "Gráfica +". Mexico City: Centro Cultural de España en México
Alderete, Jorge and Clarisa Moura. "LA TERRAZA / Espacio de convivencia / Murales 2006-2010″. Mexico City: Centro Cultural de España en México
2010
Polo Jeans Co. "Art Stars". London: Phillips de Pury
"Spaghetti Grafica 2. Contemporary Italian Graphic Design". Milano: Mondadori Electa
"Libro por la paz en Darfur", unique edition. Mexico City: Amnistía Internacional
2009
DGPH. "The Ark Project". Hong Kong: IdN / Systems Design Ltd
Klanten, Robert, and S. Ehmann, B. Meyer. "Papercraft. Design and Art With Paper". Berlin: Die Gestalten
Sinni, Gianni. "Fupete" cover feature and unique guest illustrator, FFF-Firenze Fast Forward #1, Firenze
Vernieri, Luigi. "Nice things are done slowly", FEFÈ #9, Roma
Guillò, David Quiles. ROJO issue "ocho" anniversary, Sao Paulo
2008
Fupete. "Punkie Totalista", limited edition, monographic book. Barcelona: ROJO
Fupete, Jacklamotta. "Animal Collective", monographic book. Roma: Drago
Luigi Vernieri. "Even with my eyes wide open I don't see anything", FEFÈ #8, Roma
Smits, Kim and Matthijs Maat. "Custom Kicks". London: Laurence King
Belcro #3, assembled magazine, limited edition, Spain
Marziani, Gianluca and Sartogo Domitilla. "Scala Mercalli. Il terremoto creativo della street art italiana". Roma: Drago
Riezu, Marta D. "El libro gordo de Fupete", Público 12 January 2008, Madrid
2007
Klanten, Rober and M. Huebner, S. Ehmann. "Tactile. High Touch Visuals". Berlin: Die Gestalten
Lo, Claire. "Rock Style. Daniele aka Fupete", dpi mag vol. 105, Taiwan
"The skulls of Rome". Roma: Drago
Guillò, David Quiles. ROJO issue "nami", Barcelona
Guillò, David Quiles. ROJO issue "egal", Barcelona
Guillò, David Quiles. ROJO issue "manù", Barcelona
Trigo, Valeria. "Il design? È una fantasia di adolescenti", l'Unità 16 January 2007, Roma
2006
Bourquin, Nicolas and T. Geiger, R. Klanten. "Tres Logos". Berlin: Die Gestalten
Serrat, Carlos. The Creator Studio #8, Barcelona
Guillò, David Quiles. ROJO special issue "Air" for Nike, Barcelona
Guillò, David Quiles. ROJO special issue "Drive me" for Smart, cover feature, Barcelona
Guillò, David Quiles. ROJO issue "mich", Barcelona
2005
Fupete. "P.P.P.", Riot #3, Australia
Revista Colectiva issue "La playa" anniversary, Costarica
Guillò, David Quiles. ROJO guerrilla issue "nine" inside Jpeople, Germany
Guillò, David Quiles. ROJO issue "fabel", Barcelona
Bastante, Maria Cristina. "Fupete", PIG April 2005, Milano
"irobò", Coolissimo March 2005 cover feature, Ravenna
Marziani, Gianluca. "what's Hot?", HOT February 2005, Milano
Fupete. GRAB #2, art direction, Roma
Fupete. GRAB #1, art direction, Roma
2004
Bourquin, Nicolas and Robert Klanten. "Dos Logos". Berlin: Die Gestalten
Cranfield, Bill and Alva Wong. "Iconography 2 : Life". Hong Kong: IdN / Systems Design Ltd
Zavos, Zolton. STU end issue "Rome" cover feature, art direction, Sidney
"irobò", Next Exit December 2004, Roma
2003
Guillò, David Quiles. ROJO issue "ille", Barcelona